About 2,000 employees, alone or with partners or family members, registered to spend a beautiful late summer day in the festively decorated botanical garden. Together with the retirees, a total of more than 5,000 visitors enjoyed a wide range of food and drinks and were entertained by a colorful program for young and old.
The participants were officially welcomed by Dr. Vicky Pirzas, CSL Behring Innovation, Dr. Simone Naruhn, CSL Plasma Germany, Dr. Lutz Bonacker, CSL Behring Commercial Operations Europe, and Michael Schröder, CSL Behring Operations.
The managers particularly wanted to show their appreciation for their employees' performance. "We celebrate the summer party because we want to say "thank you" on behalf of the management. We want to show appreciation for what you do day in and day out so that people around the world can get the therapies they depend on," Michael Schroeder explained. Recognition was also given to the relatives: "Particularly important and often invisible are those who have our backs: the families and partners of our employees. They give back so that we can fulfill our promise to our patients. For that, our many thanks!" said Vicky Pirzas.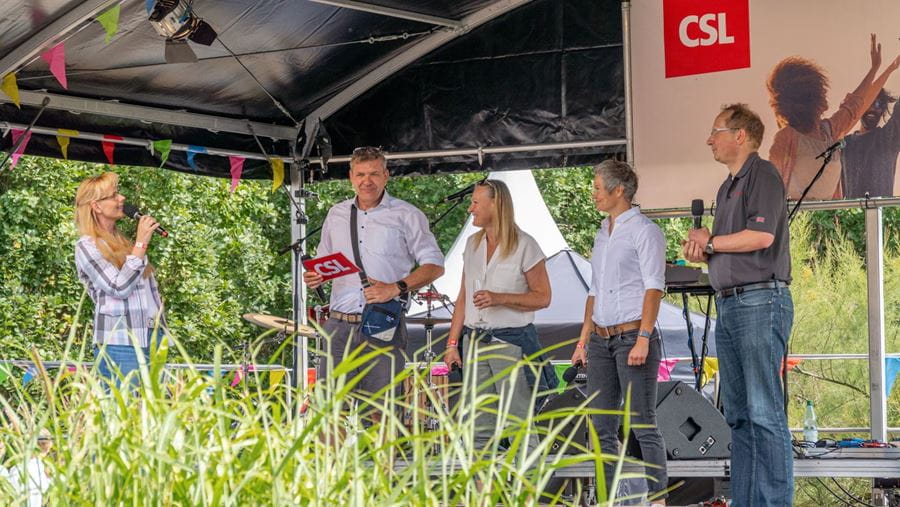 For the summer party, the entire Botanical Garden was transformed into an adventure park in brilliant weather: On the main stage, the Marburg-based band "Oh Alaska" interpreted melodious acoustic covers. "Limited Edition" offered a music show through the last six decades of rock and pop history, and Carsten and Felix Skill took the audience into the world of magic with " Magic multiplied by 2".
In the " Kids' Land " the younger guests enjoyed themselves to the full: archery, clown stories, artistry, juggling and magic invited to watch, join in and laugh. Those who were not yet tired could explore the Botanical Garden on foot or on a Segway in guided themed tours.