At CSL Behring in Marburg, diversity is part of everyday life
A global working environment in which employees can realize their career aspirations, realize their potential and be an active part of a value-oriented culture - that's what CSL Behring is all about. The company should be as colorful as the world in which we live. To achieve this goal, the company lives a culture of inclusion in which all employees are respected and valued and can contribute their perspectives, experiences and ideas. This culture is expressed in established initiatives, such as the program for the integration of refugees, diversity-oriented trainings, or project teams with interculturally experienced employees who act as "buddies," contacts, and mentors.
CSL Behring is a global organization with employees in more than 35 countries, where diversity is experienced every day. Promoting and respecting employees' individual skills, experiences and views are key to success.
In the Marburg-Biedenkopf region, too, the company is particularly committed to promoting diversity and making it visible. CSL Behring is actively involved in integration and inclusion and, to this end, organizes cultural and sporting events that focus on the international exchange of experiences and provides targeted support through donations and sports sponsorship. With the seal, CSL Behring also wants to set an example for other companies.
The "Interkulturelle Vielfalt LEBEN" seal of excellence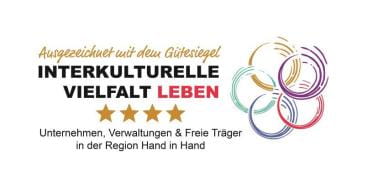 The Magistrate of the University City of Marburg, in cooperation with the county of Marburg-Biedenkopf, awards organizations in the region that have launched particularly pioneering strategies and initiatives to promote diversity. The purpose of the seal of excellence is to illustrate the importance of diversity for society and companies.